Roll over image to zoom in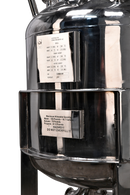 Description
Our high-quality stainless steel tanks work equally well as solvent tanks or collection vessels for your closed loop system. Pairs perfectly with our smaller Titan systems. Double jacketing allows for more efficient heating or cooling depending on the application.

Features:
1/2" compression ports
6" center tri-clamp
4" secondary tri-clamp
ASME Certified
Easily moveable and stable
Shell rated for 250 PSI
Inner jacket rated for 120 PSI
Outer jacket intended for vacuum
Specifications:
Tank:

Volume: 4318.34 in cu

Water Capacity: 18.69 gallons

Water (100% fill): 155.97 lbs

Butane (80% fill): 74.99 lbs

70/30 (80%) fill: 70.95 lbs

Propane (80% fill): 61.53 lbs

Jacket:

Volume: 1641.26 cu in

Water Capacity: 7.11 gallons

Water (100% fill): 59.69 lbs
Additional:
Ships via freight which will be charged separately.

Shipping team will reach out via phone.
Payment & Security
Your payment information is processed securely. We do not store credit card details nor have access to your credit card information.