Roll over image to zoom in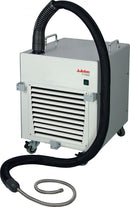 Description
Please note, this is a dropship item. As a result, shipping times may vary. Please contact our team at (888) 733-2712 for further details.

FT900 Immersion Cooler

with immersion probe for rapid cooling of liquids
JULABO immersion coolers are primarily employed for countercooling open bath circulators to ambient temperature or below, as well as for rapidly cooling liquids. JULABO immersion coolers have a small footprint and represent an economic solution preventing tap water usage for cooling. Ease of operation make this model series the ideal instruments for a variety of cooling applications.
Your advantages:
Rapid cooling of liquids down to low temperatures

Counter-cooling of liquids in combination with heating

circulators

Environmentally friendly by saving precious tap water

User-friendly operation and handling

Compact design, small footprint

Dry ice substitution



Technical Data 
Model series - FT Series

Category - Immersion Coolers

Working temperature range - (°C) -90 ... 30

Cooling capacity (Medium Ethanol)

20°C - 0.3 kW kW

10°C - 0.27 kW kW

- 20°C - 0.24 kW kW

-40°C - 0.2 kW kW

-80°C - 0.07 kW kW

Refrigerant - R23R404A

Ambient temperature - 5...35 °C

Dimensions W x L x H (inch) - 15 x 21.7 x 23.6

Weight (LBS) - 110

Cooling of compressor - Air

Immersion probe / flexible probe (l x dia.) inch - 65 x 1.5 flexible

Connection tube (L) inch - 160
Payment & Security
Your payment information is processed securely. We do not store credit card details nor have access to your credit card information.