Roll over image to zoom in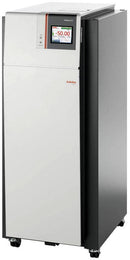 Description
Please note, this is a dropship item. As a result, shipping times may vary. Please contact our team at (888) 733-2712 for further details.

Reactor temperature control, tests for all kinds of substances or temperature simulation – the new PRESTO are made for highly precise temperature control and rapid temperature changes. PRESTO provide large heating and cooling capacities covering a working temperature range from -92 °C to +250 °C. Highly efficient components allow extremely fast  compensation of exothermic and endothermic reactions.
Lab users benefit from high flow rates, constant pressure, and a controlled build-up of pump pressure. Changes in the temperature-control liquid's viscosity are balanced dynamically. Permanent internal monitoring and self-lubricating pumps contribute to the new PRESTO®'s long service life. A special feature of the new PRESTO is the integrated 5.7'' industrial touch screen. All important information is displayed clearly and concisely enhancing ease of use considerably.
The new PRESTO can be operated intuitively with the tip of your finger.
As the new PRESTO operate whisper quiet, you will hardly hear them in your laboratory. Even high room temperatures of up to +40 °C will not make the new PRESTO sweat. Maintenance-free pumps and drives guarantee operational readiness. Multiple interfaces permit remote control of the PRESTO® across networks and in superordinated control systems. The Design does away with venting slots at the sides. The required installation space is reduced to an absolute minimum.
Your advantages
For highly precise, external temperature applications
Rapid heating and cooling
Fast compensation of exothermic reaction
Wide working temperature ranges without changing fluids
Highest performance with small footprint
Space-saving design optimizes space utilization in your lab
NEW 5,7" industrial color TFT touch screen
well-organized view of important information with unmatched, intuitive user friendliness
Up to 3 user level with password management
USB (Host und Device)
Ethernet
SD-Card slot
RS232
Modbus
RS485 (Accessory)
Profibus DP (Accessory)
Stand-by input
Filling system accessible from the top
Julabo W50 Ai reactor package with adapters, tubing and fluid
P/N 8890110 x 2. Adapter, M24x1.5 m/m
P/N 8890120 x 1. Pair, 90° elbow adapters M24x1.5 m/f
P/N 8890061 x 1. Pair, M24x1.5 f to NPT 3/4" m adapter
P/N 8930262 x 2. 1.5m triple insulated tubing, M24x1.5 f
P/N 8891414 x 1. 10 L Thermal P90, -90…+170 °C in PRESTO
P/N 8891415 x 1. 5 L Thermal P90, -90…+170 °C in PRESTO
 
Payment & Security
Your payment information is processed securely. We do not store credit card details nor have access to your credit card information.