Roll over image to zoom in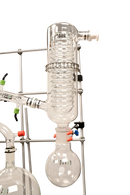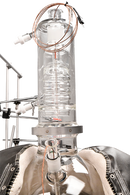 Description
Distilled Excellence

Thermaflow is a newly designed, highly optimized, short path distillation system. If purer cannabinoids and quicker run times sound appealing then this is the system for you!  Its design allows users to take "Hot Pass" or "Hot Condensing" techniques to the next level.  The ability to properly co-distill head and body fractions, and separate them based on condensing temperatures, greatly improves quality and dramatically shortens run times. Users also have the choice to run a vacuum-insulated or an oil-heated head for even greater separation ability.  


Boiling Flask - 4" O-ring flange helps with cleaning.  The flange also makes it much easier to assemble and disassemble.  Requires Apiezon H.  


Thermaflow Head - 4" flange to allow faster vapor flow and assembly.  Anti-climb sections to keep tail fraction down.  Removable Vaporwell for more efficient separations and easier cleaning.  Extra-long condenser with S-bar to increase condensing efficiency.


Vacuum Take Off - New design allows for better vacuum depth by moving the valve out of the vapor pathway.  Valved design allows for unlimited receiving flask swaps during the run.  Reject condenser is included.  Reject condenser will condense all of the rejection from a Hot Pass run, so it can fall into the cold trap in an organized fashion and not clog your cold trap receiving flask.  


Cold Trap - New cold finger design featuring increased surface area.  Angled to compliment the rest of the system perfectly.  45/50 receiving flask to avoid any clogging issues.


Max output: 2 Liters/Hour

Payment & Security
Your payment information is processed securely. We do not store credit card details nor have access to your credit card information.