Roll over image to zoom in
Description
Ai C30-40 series recirculating chillers are the true thermostatic control laboratory chiller, these closed laboratory chillers are ideal for applications such as cooling rotary evaporators, analytical instrumentation, laser etching, ICP, vacuum systems, plasma etching and jacketed reactors. This system can also be used as a replacement to tap water cooling in laboratory applications.
Ai C30-40 are compressor-based recirculating chillers that offer outstanding performance and high reliability as well as quiet operation and ease-of-use. Powerful force/suction pump provides constant flow rates, while microprocessor PID controller gives you the ideal solution when you need precise temperature control or cooling below ambient temperature.
IMPORTANT! -30°C/-22°F ULTIMATE TEMPERATURES ARE TESTED UNDER EMPTY LOAD CONDITION (NO ROTARY EVAPORATORS OR JACKETED REACTORS ATTACHED).

C30-40 circulating chiller features
ETL tested to UL and CSA standards


No dry ice or liquid nitrogen needed

Advanced PID digital temp controller

Built-in chilling fluid filter protects the recirculating pump and prevent blockage


All steel construction for durability

Eco-friendly R404A refrigerant


Cost saving as the water consumption is completely eliminated

Built-in casters for mobility

Insulated tubing included

Recommended for 50L rotary evaporators

Specifications
 Model

 C30-40-50L

 Temperature range

 Ambient to -30°C (No load)

 Electrical requirements

 220V 60Hz 1-PH 18A, 3,960 watts (Not compatible with 50Hz power)

 Cooling capacity
 (Assuming working environment
  25°C/77°F)
 @ 32°F/0°C:          5,000W
 @ 14°F/-10°C:       3,000W
 @-4°F/-20°C:         1,800W
 @-22°F/-30°C:       1,000W

 Compressor

 Make: KK
 Power: 208-230V 60Hz 1-PH
 Number of compressor: one
 Refrigerant: R404A (3.2 kgs)


 Recirculating pump

 Model: 25PLBR30-10
 Type: Centrifugal
 Output: 280 watts
 Pumping speed: 30 L/min or 8 gallon/min
 Maximum pressure: 1 bar


 Coolant outlet pressure

 Displayed on the built-in mechanical pressure gauge

 Reservoir

 Material: Type 304 stainless steel, polished
 Chilling fluid connection: 3/4" NPT
 Drain port: 1/2" NPT
 Overflow port: 3/8" hose barb
 Capacity: 40 liters or 10.6 gallons
 Dimensions: 17.5 x 17.5 x 9.5" (WxDxH)


 Radiator

 Fan motor
      Make: Boyoung
      Model: YWF4E-400
      Power: 220V 60Hz 1.3A 300W
      Rotation speed: 1550 rpm
      Flow rate: 4240 m3/hour
 Cleaning
      Clean radiator fins with a fin comb every three months

 Temperature controller

 Type: Digital microprocessor PID controlled
 Display unit: Celsius °C
 Temperature accuracy: +/- 2°C
 Temperature range: Ambient to -30°C


 Temperature sensor type

 Pt100

 Housing

 Powder coated type 42 stainless steel

 Recommended coolant

 For 50°F/10°C or higher:
            distilled water
 Between 50°F/10°C and -22°F/-30°C:
            50% ethylene glycol + 50% distilled water


 Working environment

 -15°C/5°F to 25°C/77°F, at <66% humidity

 Built-in swivel casters

 Four

 Unit/shipping dimensions 

 40 x 25 x 41" / 46 x 30 x 51" (WxDxH)


 Unit/shipping weight

 365 Lbs / 480 Lbs


 Safety

 Compressor over-temp protection
 Compressor delay start protection
 Short circuit and ground protection
 Over-current protection
 Over-voltage protection


 Recommended for rotary evaporators

 Ai 50L SolventVap rotary evaporators


 Warranty

 One year

 Compliance

 UL 61010-1 :2012 Ed.3+R:29Apr2016
 CSA C22.2#61010-1 :2012 Ed.3

 Download

 

Product brochure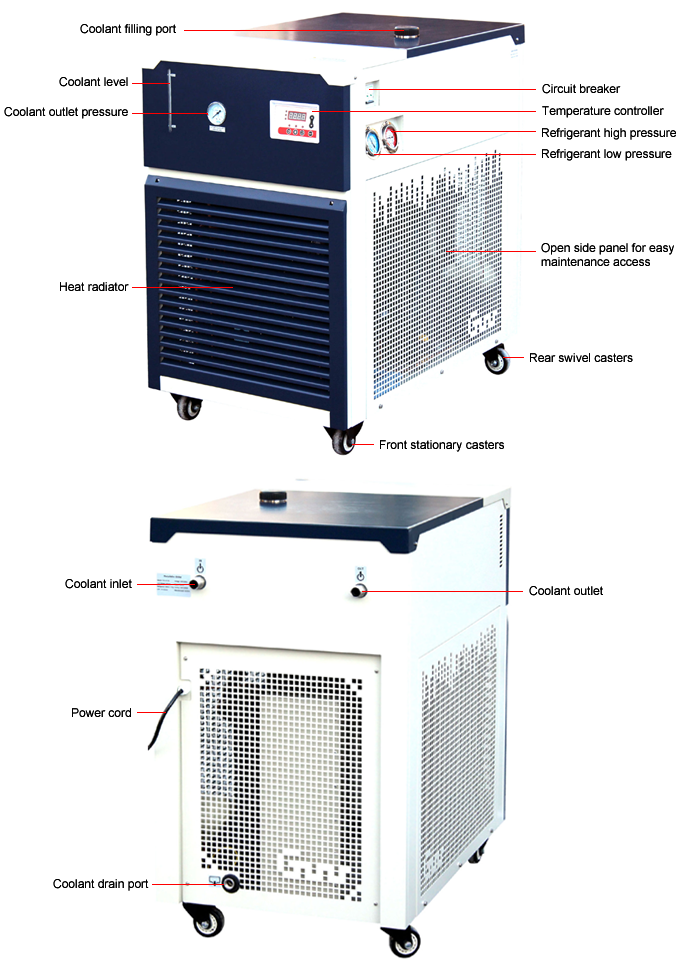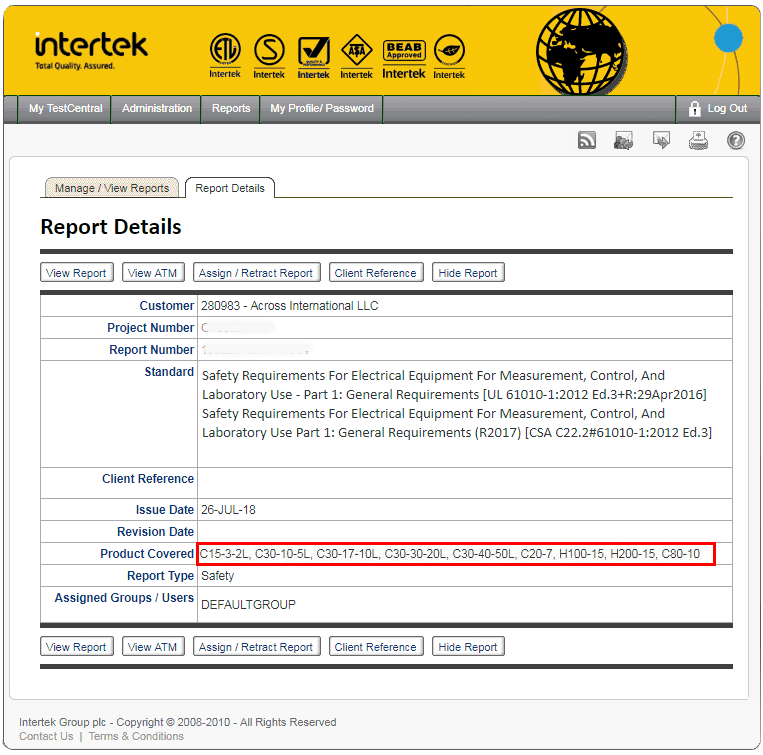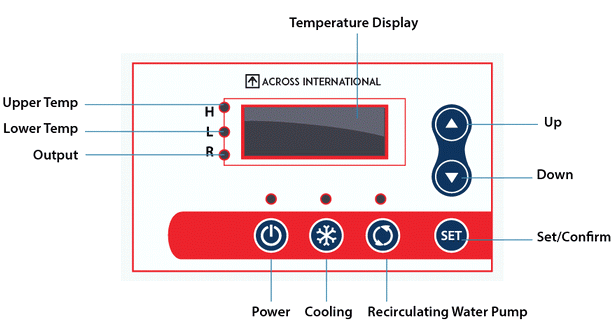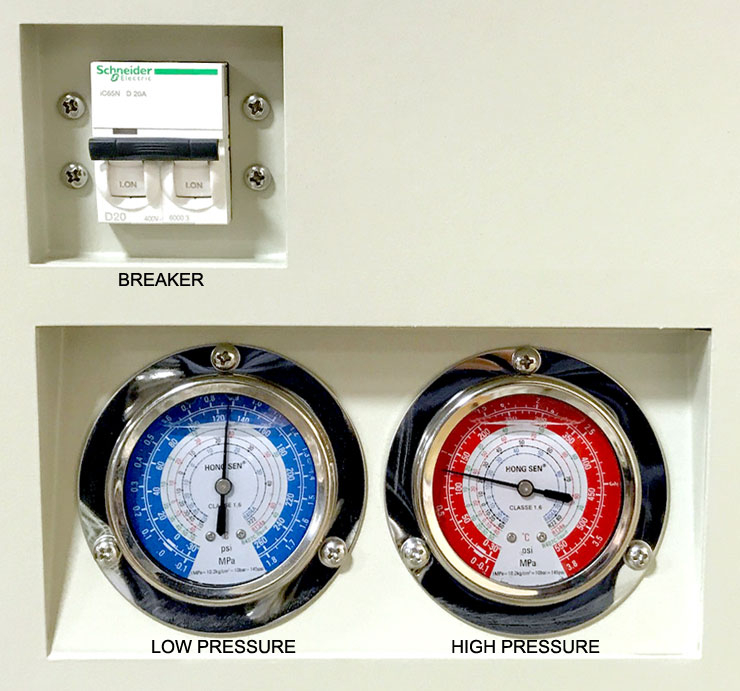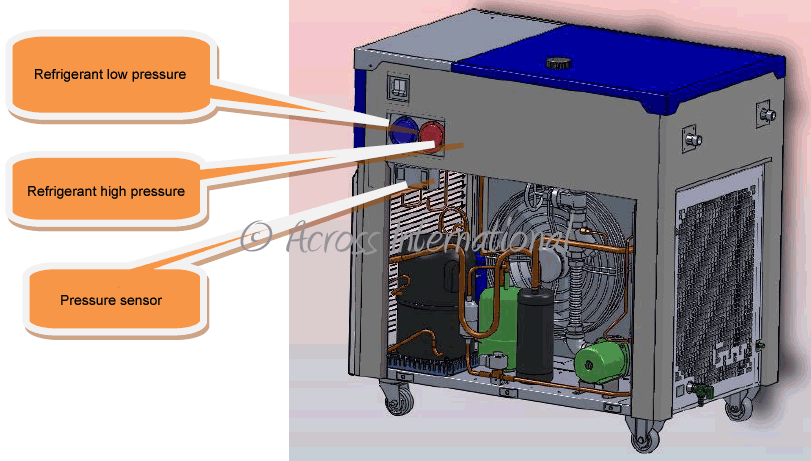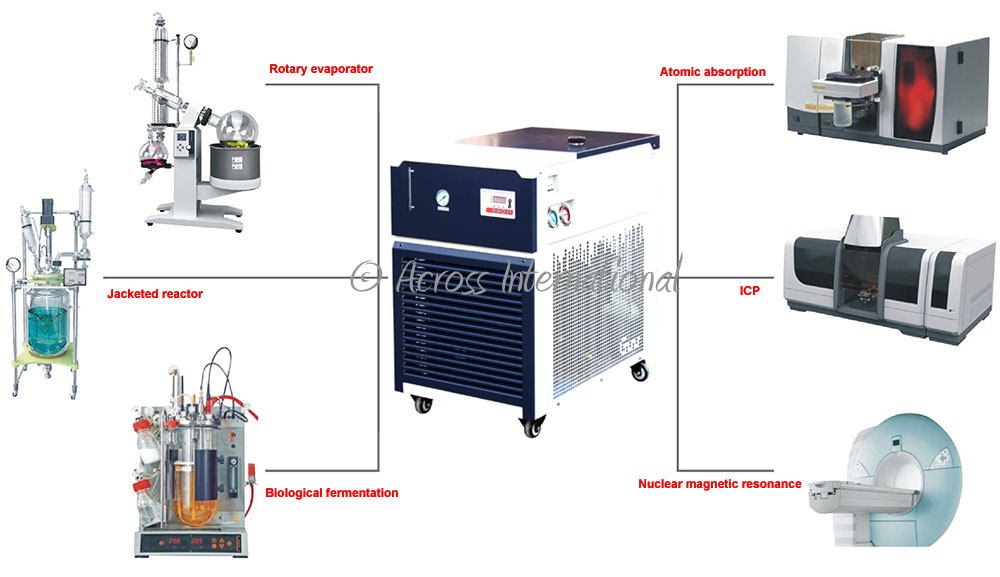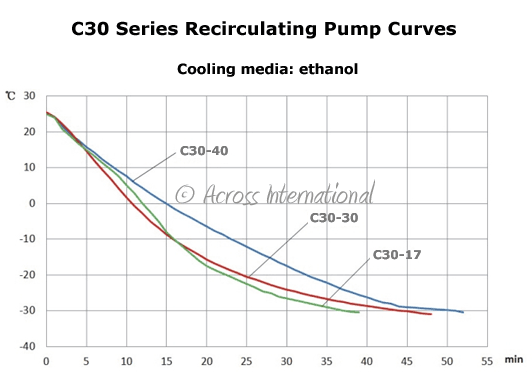 Standard package
 Part description


 Quantity


Part image

 Ai C30 -30°C 40L capacity recirculating chiller




1 pc




 3/8" insulated chilling fluid tubing

11 ft

 1/2" NPT to 3/8" barb connector with on/off valve

3 pcs

 
 

3/4" NPT to 1/2" NPT adapter

2 pcs

 
 

PTFE sealing tape

1 pc

 User's manual

1 pc



Payment & Security
Your payment information is processed securely. We do not store credit card details nor have access to your credit card information.